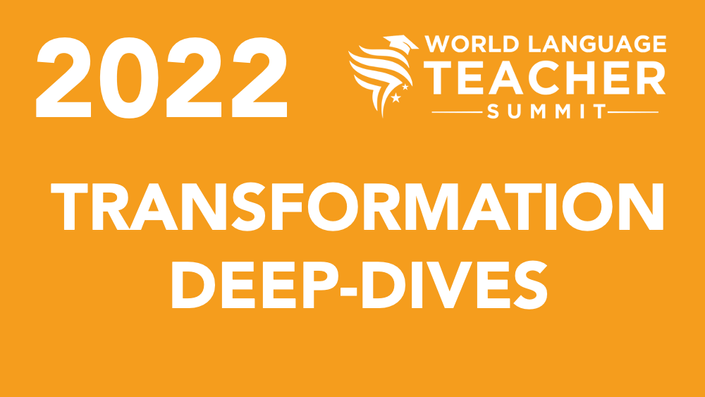 2022 WLTS Transformation Deep-Dive Bundle
Extension for the 2022 World Language Teacher Summit
IMPLEMENT THE WLTS22 IDEAS INTO YOUR TEACHING... FAST!
WONDERING WHERE TO START?

Here's your solution for how to do it today...
This bundle leads you step-by-step on how to implement all the 2022 World Language Teacher Summit sessions in your classes.
You will get:
5 FAST-ACTION VIDEO SUMMARIES ($395 value)
Each video allows you to quickly pinpoint exactly where to best focus your limited time and energy to transform your teaching.
5 TRANSFORMATION DEEP-DIVE WORKBOOKS ($495 value)
Each workbook walks you through the exact steps you need to confidently execute the ideas in these sessions to help you overcome the roadblocks you run into throughout the year!
---
ABSOLUTELY TRANSFORM YOUR LANGUAGE CLASSES SO INCORPORATING NEW TEACHING TECHNIQUES BECOMES SEAMLESS FOR YOU!
Each Deep-Dive Workbook makes it easier for you to adapt to your daily teaching. Imagine knowing that you have the skills to start using tested techniques in your classes within days... not months!
This bundle not only walks you through how to thrive at teaching this year, but you are also provided tangible action steps, so you know what to do next. No need to take your precious time to figure it out.
How much would it be worth to have a world language teaching expert coach you through hours of successful teaching?
And eliminate any stress you feel from wanting to try out new techniques yet not sure where or how to begin?